How to Make Your Family Portrait Ideas
a Reality at Home, Outdoors
or in the Photography Studio
Watching your young family grow can be an exhilarating experience. And like most parents you've likely discussed different family portrait ideas, and what would be the perfect setting.
What do you imagine as the ideal background for a family portrait? Do you love the outdoors, or does the family cottage or cabin hold a special place in your heart? For some, it's their home that holds the most meaning. For others, focusing on the relationship between family members in a photo studio is their preference.
That's the beauty of a professional family portrait. It can be whatever you want it to be.
Capturing Precious Moments That You'll Always Remember
There are milestones in every family's history. From a first year birthday party, to the first day of school, a special vacation, moving to a new home, graduations, weddings, etc. These are the memories that we remember the most.
There's one other moment that many families schedule time for, and that's to get a professional family portrait taken.
A family portrait with everyone looking their best, provides memories that will last a lifetime. It's a guaranteed way of making you smile and remembering those precious times when the kids were younger.
We'll Turn Your Family Portrait Ideas Into Breath-Taking Reality
When you're ready for a professional family portrait, we do way more than stand behind the camera.
It starts with a short meeting to discuss what you have in mind. This portrait consultation is free with no obligation. Many of my clients ask me for ideas. I'll show you family portraits I've taken in the past to see what style you like best – from informal to formal and everything in between – your portrait session is tailored to your expectations. Next we'll discuss your preferred location, whether it's a studio setting, your home, outdoors or somewhere else.
When the portrait session is not in the studio, I'll visit the location prior to the photography session. This allows me to discover the best settings to create the portraits.
Whether in your home or outdoors, I will take note of the décor and surroundings to co-ordinate colour schemes for the portrait.
With home portraits I'm often asked for advice on framing and where the final portrait would best be displayed in the home. This is also a complimentary free service that's offered with a portrait session.
Before you leave this free, no obligation consultation, I'll answer all your questions.
With all the preparation taken care of on the day of the portrait session, you and your family can relax, have fun and throughly enjoy the process.
With 30+ years of experience, I've created thousands of portraits, and my goal is to make sure everyone acts naturally and is relaxed in front of the camera.
My personal unhurried approach, taking the time necessary to fully understand your wants and needs, ensures that you'll be overjoyed with the results.
Your Family Portrait: The Genesis of a Family Heirloom
Professional family portraits have a track record of becoming family heirlooms. If you have a formal portrait of your parents or grandparents you know what I mean. There's a special connection to the past, a window that allows you to see your grandparents or parents  that's not possible any other way. In the same way your family portrait will be passed on to future generations. Each generation in turn will look back to that special moment in your family's life.
Once the photographs are taken, we'll schedule a time for you to visit the studio to choose your portraits.
This is a special moment for many of my clients, as they contemplate and realize that they are seeing something very precious.
Weeks, months and even years after, whenever you look at your family portrait proudly hanging on your wall, it will bring back those special moments of your young family.
Why Choose Lawrence Clemen Photography?
We're a full service photography studio that has been providing Montreal area families with high quality photography for 30+ years.
We provide exceptional personal service, and one-stop shopping for all your portrait photography needs.
Lawrence Clemen Photography also provides custom framing. With over 300 frames to choose from, you're sure to find a frame that's a perfect fit.
You're completely covered with my 100% Guarantee
You'll have to look far and wide to find another photographer in Montreal who stands behind their work the way I do. I want you to be thrilled and 100% in love with your portraits.
No Matter Who You Decide On To Be
Your Photographer, There Are Things You NEED To Know…
To make the right choice in hiring a Montreal portrait photographer to capture those magical moments where everything comes together perfectly, it's important to get to know the photographer.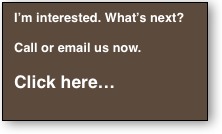 That's why I encourage you to pick up the phone and call me at 514-484-5406 to discuss your plans. There's no cost or obligation.
Whether you decide to have me create your photographs or not, the information I'll share with you on the call, will ensure you make the best decision.
Regards,



Lawrence Clemen